The Space Shuttle Challenger was hurtling through the air at twice the speed of sound when pilot Michael Smith noticed something alarming. 
Sitting on the right side of the flight deck, Smith looked out his window and likely saw a flash of vapor or a fire. 
"Uh oh," he said. 
Down on the ground at Mission Control, a computer screen indicated falling pressure in the right booster rocket. It was leaking fuel. 
As was later learned, the cold of the Florida morning had stiffened the rubber O-rings that held the booster sections together, containing the explosive fuel inside. The rings failed to expand fully in the cold, leaving a gap of less than a millimeter between booster sections. 
It was enough. 
The breach allowed a few grams of superheated fuel to burn through. 
INFAMOUS 'TIC TAC' UFO SPOTTED BY US NAVY PILOT NOW SEEN OVER BRITAIN
At one minute and 12 seconds after liftoff, the small flame grew, taking only three seconds to penetrate the fuel tank's aluminum skin. 
The tank quickly ruptured, igniting the hydrogen fuel and causing a massive, Hindenburg-like explosion. 
The booster rockets separated, and kept blasting upward on diverging paths. A little-known Air Force official whose title was range safety officer quickly hit a self-destruct button, causing the boosters to explode and fall into the sea rather than on any populated areas.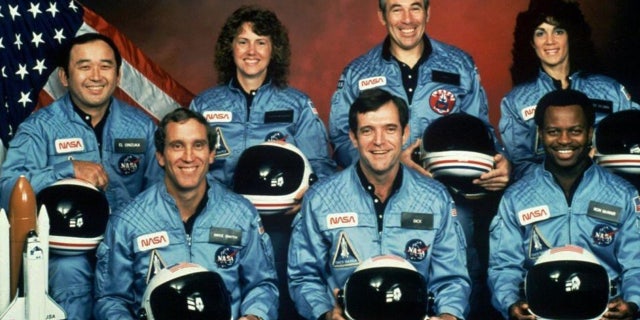 Inside Houston's Mission Control and Florida's Launch Control centers, rows of S's lined computer screens, indicating "static." All audio and communication from the shuttle had been lost. 
But the capsule the crew was sitting inside did not explode. It was ejected in the explosion, and remained intact. The brave crew members — Smith, Dick Scobee, Ronald McNair, Ellison Onizuka, Judith Resnik, Gregory Jarvis and Christa McAuliffe — survived the initial disaster and "were conscious, at least at first, and fully aware that something was wrong," author Kevin Cook writes in the new book "The Burning Blue: The Untold Story of Christa McAuliffe and NASA's Challenger" (Henry Holt and Co.), out now. 
Teacher in space
McAuliffe, 37, was a Concord, NH, social studies teacher who had won NASA's Teacher in Space contest and earned a spot on the Jan. 28, 1986, mission as a payload specialist. 
She was meant to be the first civilian in space, a fearless woman who set out to prove that "teachers have the right stuff, too," as one of McAuliffe's friends put it in the book. Instead, she ended up as arguably the most well-known name in America's worst space-related tragedy. 
NASA, USPS TEAM UP TO CREATE STUNNING SUN STAMPS
Growing up in Framingham, Mass., young Christa Corrigan was always fascinated by space. She idolized John Kennedy for his push to the moon, and as a seventh-grader in 1961, she watched Alan Shepherd become the first American in space. 
"But she wouldn't have made much of an astronaut anyway," Cook writes, "a chubby Girl Scout with no knack for science or math who got sick to her stomach on carnival rides." 
"A chubby Girl Scout with no knack for science or math who got sick to her stomach on carnival rides." 


Read More: Challenger crew likely survived explosion before tragic plunge to Earth, book